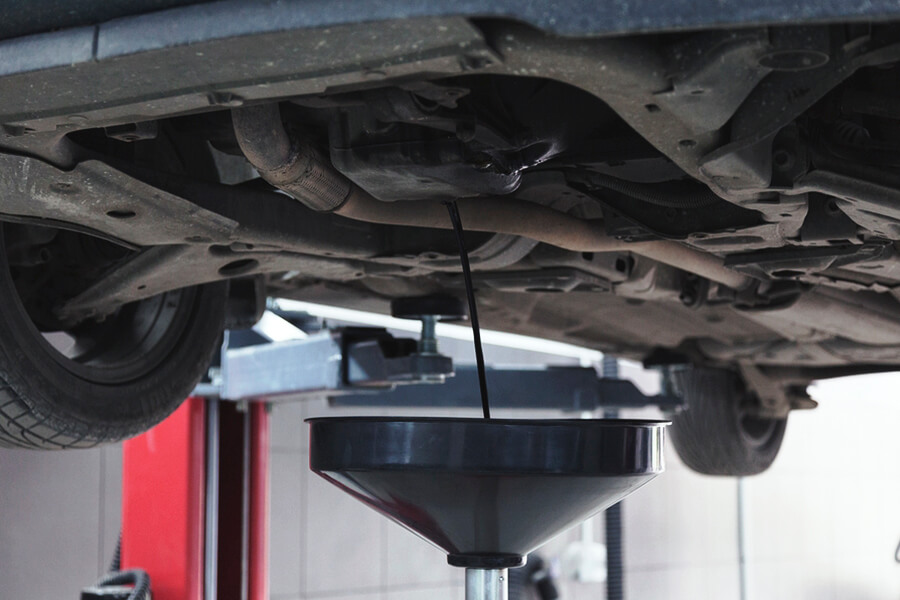 Drip, drip, drip. No, it's not a leaky faucet, it's that slow leak coming from underneath your car that you'd rather not see, hear, or deal with. Let's be honest, it's easy to see a puddle under your car and simply drive away and ignore it. It's easy but not smart. The longer you ignore a possible oil leak the more damage it can do. Even high performance Porsches are prone to wear and tear over time, including damage to gaskets and seals that can cause oil leaks. While some oil leaks are simply a small annoyance, others can be red warning signs that repairs and maintenance are needed immediately. The best way to avoid a potentially expensive and even dangerous leak is to keep your eyes and ears open and address any issues sooner rather than later.
There are some telltale signs that indicate an oil leak. There is the infamous puddle under the car that you might notice as you drive away but some signs are more subtle. As oil leaks in your vehicle, it may create a strong smell of hot or burning oil. This is a red flag that your vehicle needs to be checked out. You can also regularly monitor your oil levels by checking the dipstick. If you check your oil regularly and the levels drop significantly over a short period of time, this can be a precursor to a major leak. Another indicator could be engine noise. When there is a severe oil loss, the engine loses lubrication creating a rattling noise. If your car starts to exhibit any of these indicators, take it in to a Porsche specialist and get it checked out.
Why an oil leak is a big deal
While some people might tell you that oil leaks are no big deal and should be expected, this is a potentially dangerous attitude to take. Oil lubricates your Porsche's engine, and without it you will damage the engine to the point it could seize. The engine isn't the only part of your car that could suffer. Oil leaking out on to the engine can damage hoses, engine belts, ignition parts, and electrical items such as sensors and connectors. In addition, if the oil gets onto your brake system it can cause severe damage there as well.
If that weren't enough, leaking oil can pose a fire hazard. If it leaks onto the exhaust system, and the oil gets hot enough, it can ignite. A catalytic converter can get up to 700 or 800 degrees, meaning if oil leaks onto it, a fire could easily be the result.
Common models with oil leak issues and why
Water cooled Porsches are known to leak oil. The 944/968/ and 928 all have the same common oil issues. Oil leaks are often caused by the valve cover seals, front engine seals and engine oil pan gaskets in these models.
In addition, common air cooled 911 oil leak issues include the engine thermostat O ring, lower valve gasket covers, oil return tube seals and crankshaft oil seals. Air cooled engine repairs can be expensive as some disassembly is usually required. Gaskets are relatively easy to access whereas seals are more challenging and will generally cost more in time and labor.
All Porsches are subject to the unfortunate challenges of aging. Age and use can cause seals and oil lines to deteriorate, breakdown and leak. If you are looking at purchasing a used Porsche, pay particular attention to known issues for that make and model. Have any prospective purchase inspected by a Porsche specialist and maintain any vehicles you currently own. Regularly scheduled Porsche maintenance and upkeep can keep oil leak issues to a minimum.
When you are faced with an oil leak you have several methods available to stop or address the leak. One very common temporary fix is simply to add more oil when it runs low. This usually works best when dealing with a very slow oil leak and has to be done consistently so that your oil levels never get low enough to damage the engine. This isn't a great long term solution as you are not truly cleaning the existing oil out or identifying the root cause of the leak. Also, you run the risk of forgetting to add oil and causing permanent and/or expensive damage to your engine and other car parts.
Sometime replacing worn or damaged parts is simply too costly so many people turn to oil stop leak products. But these products are generally not very effective. These types of products use chemicals to make the seals swell and, in theory, stop leaking oil. These types of products are usually not recommended as they often mask the root problem. This could result in the real issue growing and getting worse, costing you more time and money in the long run.
If your Porsche has sprung a leak, let our experts take a look. It could be a quick, easy fix or a more involved issue. Either way, addressing it now with a Porsche professional will save you and your vehicle from messy and unnecessary future repairs.