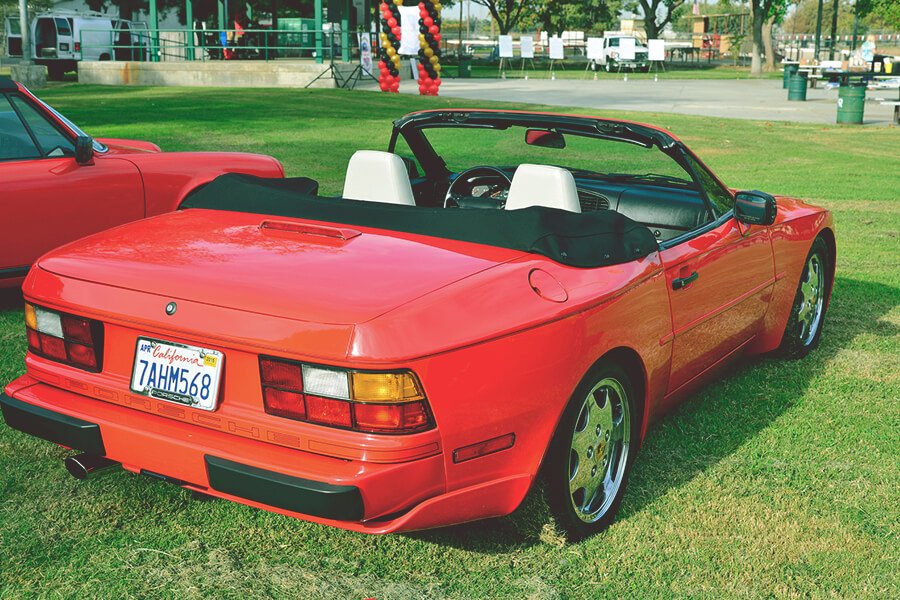 Porsche enthusiasts often enjoy repairing and restoring their own vehicles. This further cements the relationship between owner and driver and can be an incredibly enjoyable experience. When it comes to your Porsche 944, what you put into it matters. Make sure that you know what you are looking for and where to look to get the best Porsche parts possible.
About the Porsche 944
The Porsche 944 made its debut into Porsche history with striking lines and angular features. This model aimed to provide performance and pricing to a discerning customer base. With a 2.5 liter 4 cylinder engine the 944 was manufactured in 1982 and boasted 160 horsepower. The first incarnation of the 944 featured pop up headlights, integrated bumpers and flared wheel arches. The 1987 Porsche 944 S was strikingly similar to the original 944 in body style and design but saw an improved four valve engine for more horsepower and speed. The 944 is a special part of Porsche's legacy. If you are looking to repair or restore a 944, make sure that you use parts that live up to that legacy and ensure the health and longevity of your car.
Why are performance parts important?
Porsche has spent a lot of time and effort designing well-engineered, high performing vehicles. It only takes one faulty part to ruin all that hard work. For instance, if you are replacing a defective catalytic converter you need to ensure your replacement parts are durable and well made. A poorly made catalytic converter part can decrease acceleration and horsepower and potentially damage the car. Don't be deceived by low priced parts. If they end up causing long term damage you will pay a high price in the long run.
Verify that parts are correct and legitimate.
If you are just branching out into doing it yourself work on your Porsche 944, make sure that you consult with an expert regarding parts. Similarly, you want to verify with a Porsche dealership or custom parts specialist that the part you are purchasing is the right one for your car. Check the part and VIN number against the vehicle you are working on and make sure that they are a perfect fit.
If you are purchasing parts that come from a used vehicle, you should research the history of that vehicle. If a car has suffered from flooding or smoke damage parts may be weakened without changing appearance. One incorrect or damaged part can dramatically impact others and ultimately the performance and longevity of your car.
Consider the source
Online purchasing can come with greater risk. There are some reliable and quality vendors that operate online only businesses, but there are also vendors that take advantage of the anonymity of online shopping and will knowingly sell inferior parts for inflated prices. If you are determined to do your parts shopping online, looks for well-established vendors that have many positive reviews and explicitly spell out their policies. The online vendor should also be able to tell you how he or she obtained their parts and accurately describe their condition.
Craigslist can be a veritable treasure trove of discounted deals but should also come with a large flashing light that says, "buyer beware". Purchases made on Craigslist and similar sites are usually "as-is" and come with no refunds, exchanges or guarantees. If you have taken the time and expense to invest in a Porsche 944, don't risk your car with substandard parts.
Porsche specific swap meets can also provide a plethora of parts to choose from. Swap meets come with the same benefits and challenges of Craigslist. You may find a great deal but vendors are temporary and literally gone the next day. This means there are typically no guarantees or refunds if you are a dissatisfied customer.
Custom create your needed part
While this is the most expensive route on this list it is also the most reliable. Working with a reputable Porsche specialist such as TurboKraft helps ensure the quality of your part. You automatically know the history of the part and the materials used to create it. A custom created part can also be tweaked or fitted to match your Porsche's need perfectly. When you work with a brick and mortar store you have the benefit of customer service. When you bring your car to us, our technicians will take the time to carefully inspect your vehicle, go over any customizations made and identify and create the perfect part.
When it comes to your Porsche 944, if you can dream it, we can build it. Don't take unnecessary chances when it comes to your car. Purchasing custom parts from TurboKraft gives you person to person access to our staff and their ingenuity and creativity. It takes a skilled craftsman to produce quality custom parts and our TurboKraft team has the passion and expertise to get it right every time.