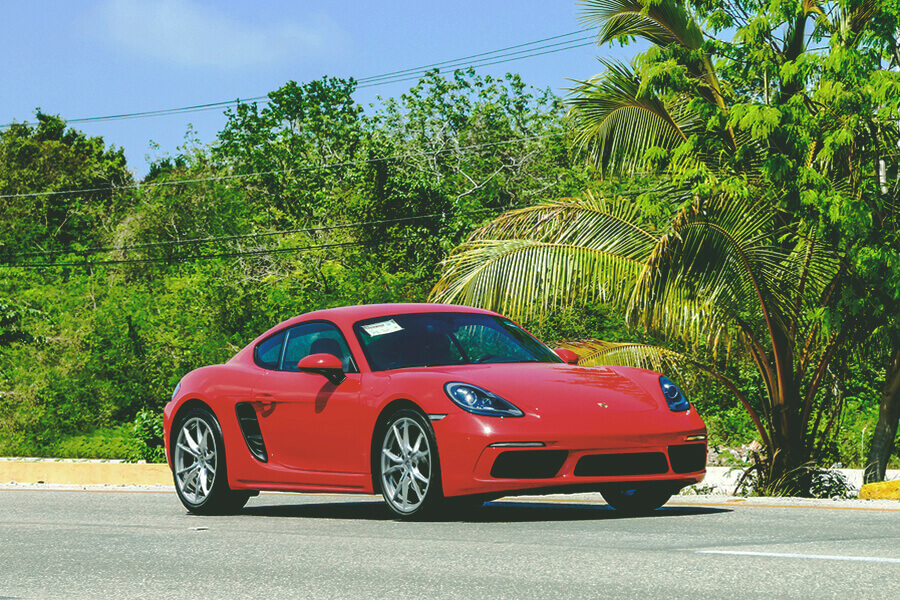 The daily slog getting to and from work can be brutal. If you spend a chunk of your work day commuting, you have probably already looked at the "best" commuter cars on the market. We've decided to take a look at the Toyota Prius, the BMW i3 and the Porsche Cayman. All very different vehicles, but all with the potential to be the best commuter car. When considering which car is best for the many hours you will be logging on the road, there are several criteria you need to keep in mind: cost, mileage, comfort, reliability and performance. But you also need to consider the option that's going to bring you the most joy. There's no reason you should log all those miles in misery.
Sticker and Pump Prices For Commuter Car
The Toyota Prius finds its strength in its affordable price tag and mileage. The base model MSRP starts at $23,475 and boasts up to 53 highway mpg. This hybrid further tempts commuters in some states by qualifying for the coveted energy efficient license plate that allows single drivers access to the HOV lanes.
The BMW i3 is an all-electric car and it challenges the Prius in mileage and energy efficiency but comes with a higher price tag. The i3 takes mileage high honors with an electric charge that can carry you 80 – 114 mpg. Those additional miles and more energy efficient vehicle come with a base model MSRP of $42,400.
The Porsche 718 Cayman is the last of the pack in these categories. The base 718 Cayman retails at $67,700 and comes with plenty of upgrades and sport add on's available that can increase the sticker price significantly. In addition, the Cayman gets 26 – 28 highway miles per gallon making your monthly gas expense manageable, but not even close to the savings of the Prius or i3. In the interest of fairness, we should mention that the Cayman is not a hybrid or electric vehicle and because of that is at a disadvantage in terms of mileage. Porsche is scheduled to release the Mission E, a fully electric vehicle by 2020 with a range of 310 miles and a 15-minute charge.
Comfort
The Prius, with its low-price point and get the job done attitude, emphasizes fuel economy but skimps on luxury. The interior space and mileage abilities of a Prius are respectable with standard features such as hands free blue tooth and steering wheel audio controls. But the infotaintment system is user friendly by basic by comparison to other manufacturers. The interior feels spacious at first blush but passengers may find the legroom a bit cramped.
If luxury is your priority, the BMW i3 kicks it up a notch. While it should be noted that the i3 seats four and the door style forces you to open the front door before you can open the back door, your passengers should be relatively comfortable. The cabin feels spacious and for the most part upscale. Some of the i3 interior materials are recycled and may feel a bit less luxurious than in other models. The infotainment system has a console mounted controller and a swift response time making it user friendly and comes standard with a navigation system.
While the i3 takes comfort up a notch, the Porsche Cayman ups the ante several more times. The Cayman can comfortably accommodate two people and features Porsche's typical high quality interior including partial leather upholstery. The infotainment system is Porsche's own Porsche Communication Management or PCM. Standard features include Bluetooth, HD radio, satellite radio, sensors for parking and a rear-view camera. This doesn't include the plethora of additional upgrades that are available including full leather interior or sport seats.
Commuter Car Performance
Over time, Toyota has designed the Prius to have a decent ride and smoother handling but overall sacrifices in performance have been made in exchange for mileage. The 121 horsepower generated from the 1.8 liter, four cylinder engine simply can't doesn't have the power or performance of the Porsche Cayman or the BMW i3. It will take a Prius over 10 seconds to get from zero to sixty. While this option may get you farther for less, it won't get you there faster.
The BMW i3 focuses on a smaller carbon footprint and tries to maintain performance with a lighter, more streamlined design. The i3's get and up and go potential is a bit more respectable as it can get from zero to sixty in 7.2 seconds with 170hp. Top speed is 92 mph. The i3 comes standard with narrow tires which are not great for handling. These can be upgraded to a wider, better performing version. The i3 is a good example of compromises made for performance and commuting.
While the Porsche Cayman doesn't take high marks in the mileage or price categories, performance is where it shines. The high price tag includes all the expected Porsche features with the Cayman boasting 300 horsepower and hitting zero to sixty in 4.9 seconds. The Cayman S clocks in at 350 horsepower and zero to sixty in 4.4 seconds. The newest Cayman models also include updated brakes, and a turbocharged 2.0 or 2.5 engine respectively as opposed to the naturally aspirated flat six engines of models before. You can use that turbocharged speed to avoid dangerous drivers and potential collisions on your way to work. While the Prius sacrifices performance for mileage, Porsche goes the other way, making sheer speed and performance the priority.
When considering the best commuter car for you, you need to look at reliability, durability, mileage, efficiency and last but not least, the quality of time you spend in the vehicle. If you are spending two hours a day in your car, there's no reason you shouldn't make them the best two hours possible. If you are considering purchasing a Porsche to serve as a commuter car, call TurboKraft and let our expert technician's check it out for you.