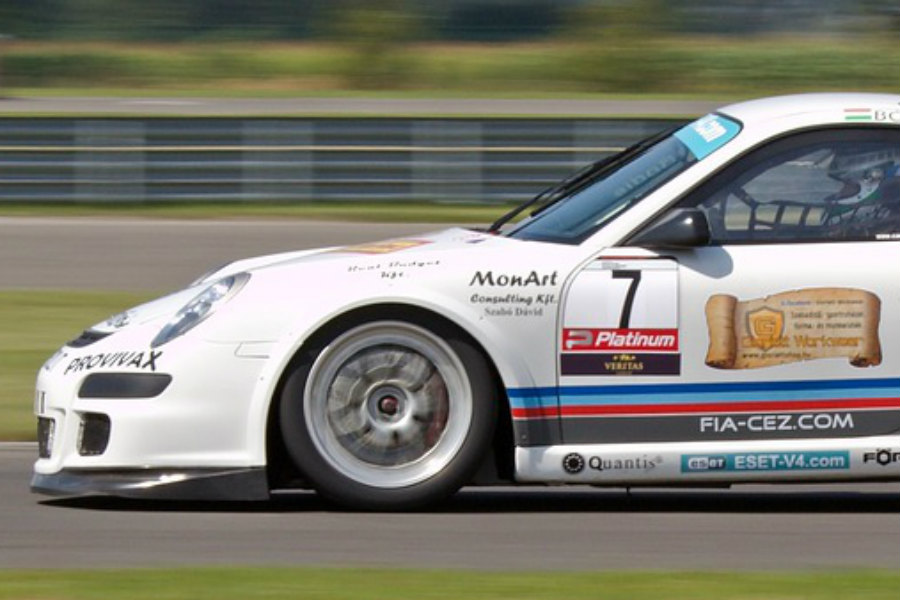 A Brief History of Porsche Racing
Porsche specializes in street legal cars that are steeped in racetrack history.  Porsche began manufacturing in 1948 and made its name as a racing juggernaut in 1951 with a win at Le Mans.  The manufacturer continued its legacy by winning Le Mans 18 times, including a nail bitter in 2016. Porsche has a history of excellence when it comes to crafting incredible racecars.  Perhaps no one can describe Porsche's strength and racing roots better than Porsche:
"It has taken that success 18th overall winner of the 24 Hours of Le Mans (more than any other manufacturer)
More than 50 class wins at Le Mans
An estimated 28,000 total championships won globally as of 2007
275 dedicated race cars produced in 2007 alone (more than any other manufacturer).
With such a spectacular and impressive impact on the sport of racing, it's no wonder that Porsche continues to use racing innovations to improve and perfect their road cars.
Racing and the Connection to Road Car
While Ferdinand Porsche initially started out manufacturing farm equipment and consulting for other companies he eventually branched out into his own manufacturing and ultimately created a company that has dominated both the racing and road car markets.  It is easy to trace the racing influence in the road cars of today.
CFRP, or Carbon Fiber Reinforced Polymer, is commonly referred to a carbon fiber and is a light fiber reinforced plastic that is extremely strong. Porsche used CFRP in their vehicles to achieve a lighter overall weight and maximum speed.  CFRP first appeared on the Porsche 911 GT1 in 1996 and most recently turned up on the GT3 RS .  CFRP is such an effective tool that Porsche has used it for over twenty years.
Another Porsche feature that has its roots featured in racing is carbon ceramic brakes.   Cars that are built to go over 150 miles per hour also need to stop; sometimes quickly.  Brakes are built to stop a vehicle by using friction.  The heat and friction required to stop a car going almost 200 miles per hour can be damaging to the steel of traditional braking systems.  Carbon ceramic brakes are designed to withstand the heat and maintain their structural integrity.  Because of this, carbon ceramic brakes can have an incredibly long life span especially if you aren't driving on a racetrack every day.  In addition to the longevity and heat resistance some people appreciate the aesthetics of carbon ceramic brakes.  To some, they simply add to the appearance of the vehicle.  More practically speaking, they also subtract from the weight of the car.  These brakes are much lighter than their steel counterparts helping again, to improve the optimum speed of the car.  Porsche has always taken its quest for faster and better seriously and its improvement in braking systems is no different.  Original Porsche's featured four disc brakes and two calipers and went through several iterations before progressing to carbon ceramic brakes in the 996 GT2 in 2001.  These brakes are still available as an upgrade on many Porsche models.
Another aspect of Porsche's racing success that carries over to their road cars is the sheer speed and power that helped make Porsche famous.   Porsche's 1st win in 1951 at Le Mans was with a racing 356 SL that could reach up to 160 km/h and 46 horsepower.  Porsche has taken that engine and simply improved upon it over the years.  The 2017 Panamera Turbo exemplifies Porsche's racing roots with a 4 liter V8 engine that achieves 550 horsepower and can reach 60 mph in 3.6 seconds.  The Panamera is Porsche's 2017 sports sedan.  This means that even in a vehicle designed for the on the go businessperson and his or her family, you can see the power and roots of Porsche's past.
The infamous turbo is another textbook Porsche characteristic that can be seen in both race and road cars over the years.  The first Turbo debuted in 1975.  The first 911 Turbo model that was available for purchase was a hulking figure and only produced as a limited edition.  The Turbo boasted a larger engine capacity and wider wheel arches.  As the Turbo continued to be utilized the engine kept getting bigger with the 1993 Turbo boasting a 3.6 liter.  Thanks to Porsche's racing roots and continued technological advances, today's 911 Turbo road vehicles can brag about 540 horsepower and zero to sixty in 2.9 seconds.
Your Source for Porsche Road Racing Parts
If you are looking to add or customize your road car to reflect more of Porsche's racing roots, give us a call.  TurboKraft's skilled craftsmen can maintain your vehicle or customize any way you wish.  Contact TurboKraft and get access to genuine and custom Porsche parts.  Let us make your car come to life.