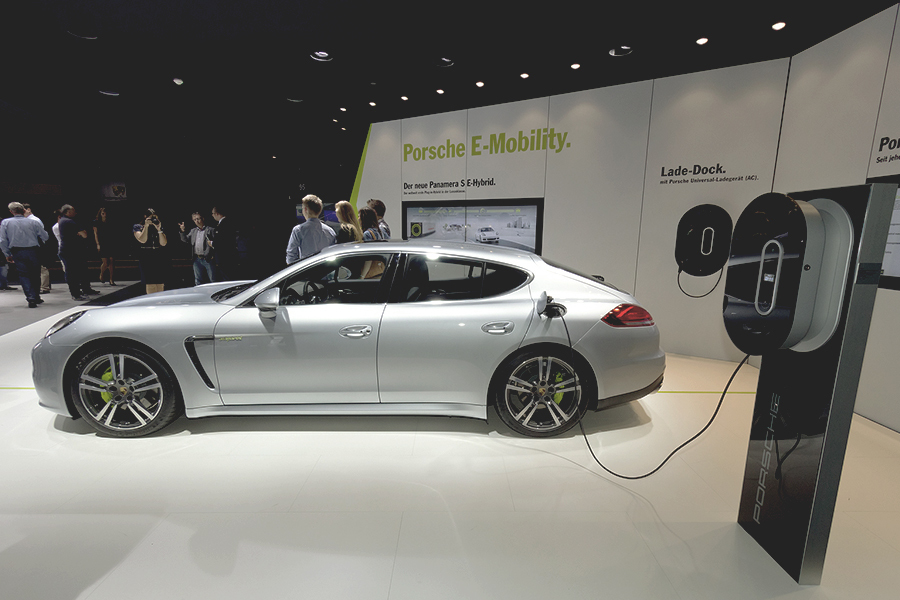 Imagine the purist driving experience… what do you see? Are you envisioning the speed of a 911 Turbo S or the luxury of the Panamera? Are you fueled by a desire to go as fast as you can as quickly as possible? Or does the drive of your dreams include maneuvering deftly through hairpin turns? At any point in your imagination did you happen to see a Porsche electric car? One that does the driving for you so that you can read the newspaper at the wheel? As Porsche moves further into the future, the picture of what's to come is changing. Porsche is keeping its speed, design and engineering and pushing its brand forward into the realm of electric vehicles.
Porsche: All Electric
Porsche has been an engineering pioneer and is looking to keep its title and demolish the competition. When it comes to forward thinking, Porsche is openly planning and designing for the future. Porsche declared that it is unveiling the Mission E, an all electric vehicle, in 2020. While many Porsche customers may not initially think of the power and craftsmanship of a Porsche in the form of an electric vehicle, the Mission E represents Porsche's foray into the future, and it's electric.
Oliver Blume, chairman of Porsche, has described in detail that Porsche is planning on unveiling an all electric car in several models with the capability to move up in power. Blume spoke after the Geneva Motor Show and described the Mission E particulars, and they're impressive. According to Blume, Mission E will have a 15 minute charge and run for approximately 311 miles. The Mission E could come with different outputs and horsepower options with possible upgrades available. The charge time may depend on available chargers and if the available technology has caught up to the vehicle. Porsche is also considering software updates that could be sent to the car without a visit to the dealer. If Porsche is able to utilize technology in this way, it may be offered at a premium as an additional add-on to the vehicle or upgrade.
In addition, Porsche is also including autonomous driving as part of the package. While Porsche owners are known for enjoying their driving experience, the ability to abdicate control to the vehicle in order to relax awhile will also be an option. Porsche will seek to meet the needs of driving enthusiasts while also allowing their drivers to avoid daily driving irritations such as navigating traffic. This will most likely be achieved with different modes that allow the driver to take control or utilize the vehicles self-driving system. Mission E is a sleek and serious example of Porsche's dedication to firmly plant itself in the future of cars, embracing both electric and autonomous driving.
Porsche's First Electric Car
The first Porsche designed vehicle was unearthed from an old Austrian shed and while it may have resembled an old horse drawn carriage, it was electric in power. While ardent Porsche enthusiasts will know that the first Porsche branded vehicle was the 356, the first vehicle actually designed by the one and only Ferdinand Porsche was the P1 also known as the "Egger-Lohner electric vehicle, C.2 Phaeton model". Ferdinand Porsche was able to take approximately 30 years of experience and knowledge of designing cars for manufacturers such as Daimler-Benz and Lohner and channel it into the first Porsche electric car.
Ferdinand Porsche took a flawed P1 that debuted in 1898 at the Austrian Automobile Club and reimagined it to roadworthiness. He utilized an electric motor with an eight sided housing and shock absorbers to protect the motor. He also moved the electric motor to the rear, adjusted the axle steering and much more. He made sure that his design work received the proper credit by engraving P1 on all the important parts of the vehicle.
Porsche's hard work to ensure he received his due was wise, as the P1 was light years ahead of its nearest competition. In an international competition in Berlin, Germany, the P1 faced 18 other vehicles in a challenging 40 kilometer contest. Porsche Ferdinand took gold in a spectacular fashion, finishing 18 minutes ahead of the nearest competitor. In addition to finishing first, P1 also topped the charts in efficiency, recording the lowest energy consumption. Once this remarkable vehicle was rediscovered, it was placed in the annals of history by taking its proper place in the Porsche museum in Stuttgart-Zuffenhausen.
We Service ALL Porsches
Whether you are a Porsche owner caring for your 1970 Spyder or your 2017 911 GT3 or anything in-between, TurboKraft is here to help. We have a staff of Porsche experts and craftsmen. We can help you care for and customize any Porsche into anything you can dream of and just like Porsche, we will continue to evolve and grow. So if you decide to purchase part of Porsche's future in an electric car, we will be here to help you with that too.