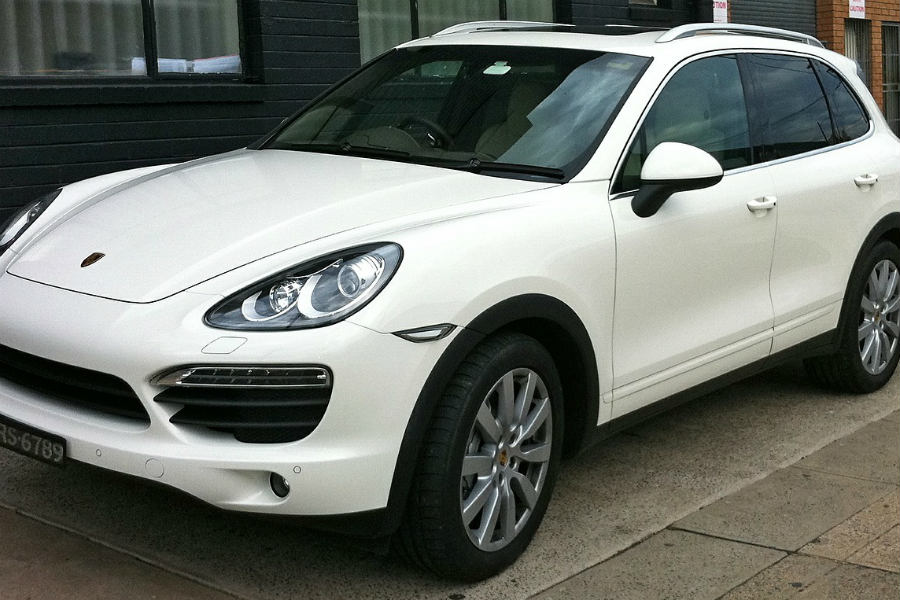 The Cayenne is Porsche's crossover SUV and like so many of its predecessor's, the Cayenne offers all that is synonymous with Porsche's brand: drivability, comfort, sheer speed, luxurious detailing, and an overall experience that is second to none.  The Cayenne receives a 5 out of 5 from Car and Driver and a 9 out of 10 from US News Cars.  The Cayenne's blend of Porsche craftsmanship, lineage built from cars that belong on a track, and superb handling and comfort make it a perfect choice for almost anyone.
Porsche Cayenne Interior
Porsche describes the interior of the Cayenne as being derived from the 918 Spyder and stresses that the Cayenne design is rooted in motor sport racing.  The emphasis of the interior design is convenience and accessibility.  The driver has all the controls within arm's reach.  The rising center console brings everything you could need within easy reach and the multifunction steering wheel creates an even easier driving experience.
The interior also includes Porsche's PCM or Porsche Communication Management System.  The PCM includes a navigation system and fits seamlessly into the interior design.   The Porsche Communication Management System is standard in all Porsche models and contains all your information and entertainment needs in one easy to navigate console.  Your PCM includes 2 SD card readers, Bluetooth capability and an internal hard drive for all your sound system connectivity needs.
The materials and bells and whistles used for the Cayenne interior are what you would expect from Porsche.  These include genuine wood grain and leather with detailed stitching.  The cargo space is typical of a midsize SUV and the seats can do it all.  Standard seats are all ergonomically designed to provide comfort for long drives and every seat can be power adjusted into 8 different position.  Rear seating can recline and slide.  Upgrade packages include rear heated seating.
While not the sexiest part of the Cayenne, the included safety system and features shouldn't go unnoticed.  The Cayenne comes with standard airbags and side curtain airbags for both the first and second row.  The Cayenne also boasts daytime running lights, rear child safety locks, ABS and driveline traction control as standard features.  Optional add-ons include cornering lights, directionally adaptive lights, as well as lane departure and blind spot warning systems for increased visibility and safety.
Porsche Cayenne Pricing
The Cayenne pricing depends on the year and model that you are looking at.  The basic Cayenne model brand new MSRP's at around $59,600 while the fully loaded turbo model lists an MSRP of $159,600.  There are several factors that increase the price as you go.  As mentioned above, optional features such as rear heated seating and additional safety items such as lane departure and blind spot warning systems will add on to the base model price.  There are eight different versions of the Cayenne available for purchase, the Cayenne, Cayenne S, Cayenne Platinum Edition, Cayenne GTS, Cayenne Turbo, and Cayenne Turbo S.  You also have hybrid options in the form of the Cayenne S E-Hybrid and the Cayenne S E-Hybrid Platinum Edition.  Pricing for your Cayenne will depend on which model, engine, and bells and whistles you choose.  The base model Cayenne starts at $59,600 while the GTS starts at $97,200 and the Cayenne Turbo base model has an introductory price of $116,500.  They hybrid Cayenne S-E starts out at $78,700 and the hybrid platinum edition starts at $81,600.
Porsche Cayenne Top Speed
If you are looking at purchasing a Cayenne and have a need for the fastest possible option, look no further than the Cayenne Turbo S.  The Turbo S offers 570 horsepower at 6000 rpm and can go from zero to sixty in 3.8 seconds.  The Cayenne Turbo S has a top track speed of 176 mph.  If you are looking for maximum speed and cost is not a consideration the Turbo S is your best bet.
If you are looking for speed with a slightly less hefty price tag, the Cayenne GTS is also a strong contender.  With 440 horsepower at 6000 rpm and a top track speed of 163 mph, the GTS provides speed and horsepower with a potential $20,000 savings.
Whether you analyze the value of a vehicle based on cost, speed, luxury, or a combination of all three; consider what you get for what the Porsche Cayenne costs.  The Porsche brand and various Cayenne models exemplify what a crossover SUV should provide: a smooth, quality driving experience with the muscle and power of a racecar.  With the Cayenne interior and the sleek exterior design including Porsche craftsmanship, the Cayenne is a fantastic choice for anyone that needs the room and wants the luxury and power the Cayenne has to offer.  What's not to like?