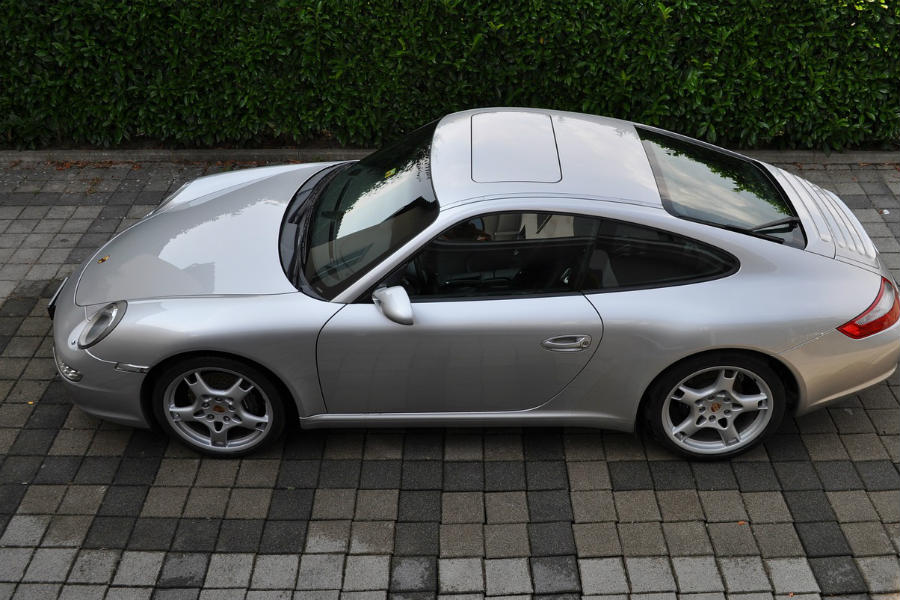 Auctions are a fantastic opportunity to see what vehicles are up for sale and even if you aren't in the position to do some buying, you can always indulge in some serious window shopping.  This year's 2017 Russo and Steele's Scottsdale auction was no exception.  Whether listed in the catalog or turned up in the final sales results, these were our favorite Porsche offerings.
1977 Porsche 930 Turbo Coupe
The 1977 Porsche 930 was the last of the original 3.0 series 930s.  After this series, Porsche adopted significant changes to the design moving forward.  This 1977 930 has a K-Jetronic fuel system, "featuring a higher-output fuel pump, a reinforced 4-speed 915/66 gearbox with 4.222:1 final drive, an upgraded 930/33 transmission to suit the increased 16″ wheel size, added ATE brake servo and slightly thicker brake discs."
1959 Porsche 356 A T2 Sunroof Coupe
A rear engine, rear wheel drive, the 356A T2 is built for handling.  This vehicle is air cooled and features the curved windshield found in the 356A models.  The 356A was initially introduced in 1955 and the T2 is the second revision of the model.
2011 Porsche 911 GT3 RS
This six speed rear engine, newer version brings a little extra to the table.  The 2011 GT3 RS goes from zero to sixty in 3.5 seconds and tops out at 193 miles per hour.  This version also continues with the lighter weight trend in design and materials for maximum speed and handling.
2007 Porsche GT3 RS
This car was designed for the track.  The RS is short for Renn Sport or "racing sport." Production of this car was limited to several hundred.  The focus in its design is on performance although it meets street legal requirements.  This Porsche can drive around the neighborhood but is much more satisfying on the racetrack.  With a six speed transmission and lower vehicle weight, the GT3 RS achieves 415 bhp at 7,600 rpm and zero to sixty in 4.2 seconds.  Maximum speed is around 192 miles per hour.  The RS is wider at the rear but is still lighter than the GT3 increasing maneuverability and stability.  The lighter weight is achieved in part due to the use of carbon fiber both in the wing and seats.
1997 Porsche Andial Turbo Coupe
With 600 horsepower, this car is a find.  In the 1980's, Andial was a name synonymous with racing and speed.  Andial was formed by three friends and partners, Alwin Springer, Dieter lnzenhofer and Arnold Wagner.  Together, this trio created a powerhouse engine building machine.  Andial become known for its racing partnerships, including a win in a 935 at the Daytona 24 hours in 1983.  Over time, Andial's partners aged and retired, and Porsche has purchased the Andial name.  This is an air cooled 993 Turbo built for speed.
1994 Porsche 965 3.6 Turbo Coupe
This 965 3.6 Turbo Coupe flaunts an updated 3.3 liter 930 engine.  It shows off an impressive 360 horsepower at 5,500 rpm.  This version was updated and designed for greater torque than previous models.  This is another perfect example of a road legal vehicle that much prefers to be on a racetrack.  This particular model is one of only 1,587 sold and as such is in high demand from collectors and Porsche enthusiasts.
1969 Porsche 911 E Targa
The Porsche Targa stood out in its design with a stainless steel roll bar.  This particular vehicle features refurbished Fuchs 5-spoke alloy wheels.  The 911 S was the first model to display these legendary rims and cloverleaf design.  This model was designed to add comfort and drivability to Porsche's speed.  This edition of the 911 addressed previous models spark plug issues with a new high voltage capacitor ignition system.
1986 Porsche 911 930 Turbo Coupe
The 911 930 was known as the fastest production vehicle available in Germany at its peak.    The 1986 version could go from zero to sixty in 4.6 seconds and tops out at 155 miles per hour.  The car represents the year that Porsche reintroduced the 930 model to the U.S. market but with an improved emission-controlled engine.
1963 Porsche 356B Coupe
A 4 cylinder, rear engine, uniquely built Karmann notchback vehicle, this is a find.  This design has a mixture of the Cabriolet and the T6 coupe.  This particular vehicle is powered by a "1963 Super 90 Type 616/7 T6 1600 engine."
1976 Porsche 911 S Strosek Edition Cabriolet
This model boasts a custom and hard to find wide bodied Strosek design kit.  Strosek Design was the most common Porsche conversion provider at the beginning of the 21st century.  Vittorio Strosek was the founder of Strosek Designs and focused primarily on aerodynamics.  The engine is air cooled and the has a 2.7 liter 6 cylinder, 5 speed engine. It also has the Strosek rear spoiler.
Whether classic, unique or simply mind-numbing fast, with so many Porsches to choose from, it's hard to have a favorite.  We'll have to try again at the next auction.