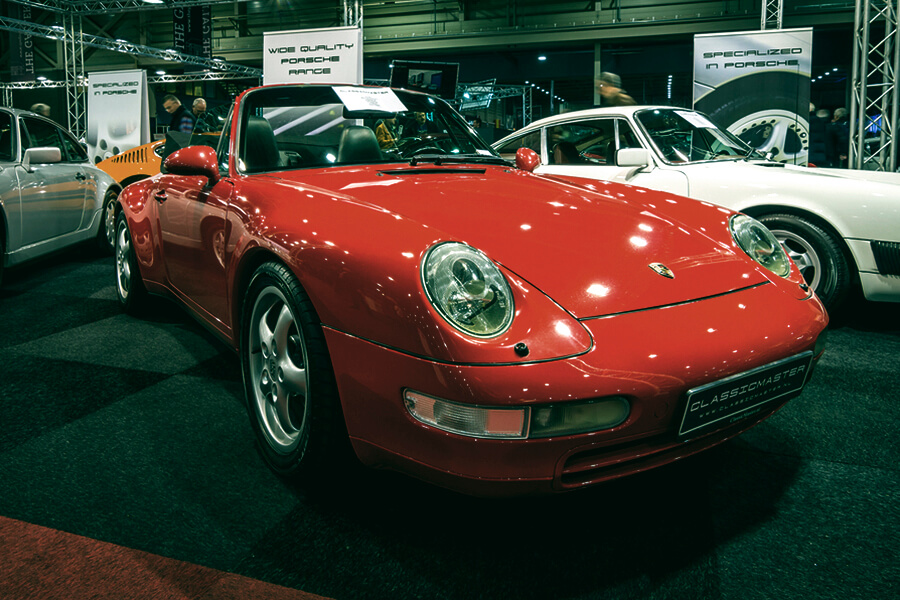 Porsche has become a brand that is synonymous with speed and design. If you buy a factory built Porsche you are faced with the hard reality that even a manufacturer of Porsche's magnitude is forced to build and design for the masses. This often means vehicles are made to function as fast and fun but also as long lasting daily drivers. If you find yourself wanting to squeeze more horsepower out of your 993, read below for tips on how to do just that.
History of Porsche 993
Here are some facts about Porsche 993.The 993 encapsulates the production of Porsche 911's starting in 1994 and represents some distinct changes in Porsche's storied history. The 993 saw some distinct visual and mechanical changes. The wings became wider and flatter while the rubber lip between the body and front bumper disappeared altogether. Mechanically, the 993 boasted twin turbocharging for the first time and was the first all-wheel drive Turbo introduced by Porsche. In addition to the changes that set the 993 apart, it is also what stayed the same that has some Porsche lovers coveting this model. Many Porsche purists think of the 993 as the end of an era because it is the last air cooled Porsches manufactured. For many Porsche enthusiasts, air cooled vehicles have more spirit and soul than their water-cooled counterparts. Besides being air-cooled the 993 Porsche has the ability to go from fast to breakneck speed with a few modifications.
Ways to get the most out of your 993 Porsche
Install an upgraded air intake system
It's important to remember that while vehicle manufacturers build cars for speed and handling; they're also forced to design with longevity in mind. If you are simply focused on speed and power, upgrading your air intake system can improve your power and torque. Most upgraded air intake systems will include a larger air filter that will bypass the factory version. This larger surface area translates to better air flow. Intake tubes are also typically built without noise considerations and designed to improve air flow. The more air that is forced into the engine, the more power and efficiency you are able to harness.
Upgrade your exhaust system
A quality aftermarket exhaust system can create a more efficient path for exhaust gases to leave the engine, creating a more efficient engine. The faster air is being circulated to and from the engine the more power you will be able to garner. An added bonus to an upgraded exhaust is the change in tone that speaks to the true power of the vehicle.
Supercharger/Turbocharger
Both supercharger and turbocharger kits are used to increase power. Both systems compress air flowing into the engine creating a significant boost in power. A supercharger uses a belt to connect directly to the engine and utilizes a crankshaft to produce power. While a turbocharger uses exhaust gases to generate power and is not directly connected to the engine. Turbochargers tend to run very hot and need to be well insulated to prevent vehicle damage. Because the supercharger forces air into the system with a belt it produces instant horsepower whereas with the turbocharger utilizing exhaust gases there is a lag.
Utilize a recirculation bypass hose
If you are using your Porsche 993 as a daily driver, this tip is not for you. If you don't care about This tool bypasses the factory recirculation system also known as the turbo charger waste gate. The waste gate is a standard factory part used to lessen some of the boost pressure of the turbo charger on a factory engine. It's primary function is to lessen the chance of overpressurizing the system on a factory car. The factory focus is longevity, not maximum performance. While the turbo charge increases the horse power of the engine the waste gate helps control the boost to lessen the chance of damage from over boosting engine.
CAT bypass
A CAT bypass eliminates the catalytic converter with a more straight through design giving increase air flow. This translates to more horsepower and throttle response. It is important to note that CAT bypass pipes can trigger a check engine light and may not be street legal.
Don't increase horsepower without the proper handling.
If you are serious about upgrading your power you should also be serious about increasing the vehicles handling and maneuverability. Power and speed aren't any fun if you can't control the car while enjoying them. Consider items such as suspension upgrades and a new clutch/pressure plate. If you increase your vehicles horsepower you need a way to transmit it to the drivetrain. A high-performance clutch can be the solution to that problem.
With an increase in torque and power, your wheels and tires need to be upgraded to keep your car on the ground. When looking at performance wheels and tires carefully consider what you want: your budget, speed rating, etc. Upgraded tires will not increase power or engine performance but can increase the handling of the car, making your high-performance vehicle more enjoyable.
If you want to push your Porsche to its limits, call TurboKraft. Our customization experts can help you maximize the speed of your vehicle and create the car of your dreams.