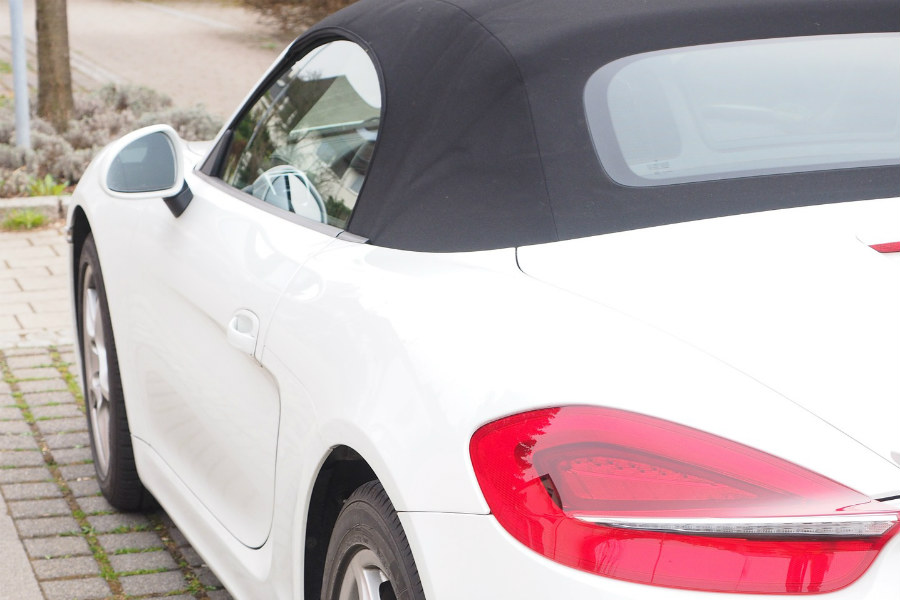 Porsche History Trivia: a name that is synonymous with quality engineering, luxury, and speed.  Many people want to own a piece of the Porsche name.  Thankfully Porsche's financial difficulties in the 90's produced the Boxster, a vehicle that allowed more people to afford and enjoy their very own Porsche.
A Primer on the Porsche Boxster
First introduced in 1993 at the Detroit Auto show, the Porsche Boxster entered the scene just in time to help Porsche out of an incredibly difficult financial time.  In the early 1990's the US economy was slowing and Porsche's prices were climbing.  With the situation becoming increasingly bleak, Porsche upped their game with a more affordable car that harkened back to the days of the 1950's Spyder – the Boxster.  The Boxster was so successful that Porsche just celebrated 20 years of production and they're not done yet.
Porsche Boxster History
A gentleman name Wendelin Wiedeking, took over as Porsche CEO, in 1992.  His background and training was as a materials specialist but he understood Porsche's financial challenges and identified a much larger market waiting to embrace the Porsche brand.  Wiedeking made a conscious decision to continue developing the Porsche 911 while also building a more affordable Porsche to present to a larger audience.
Wiedeking didn't just develop the Boxster, he revolutionized the way Porsche's were manufactured.  He took notes from competitors and consulted with retired Toyota executives to better understand how Toyota simplified and executed more cost effective manufacturing.  Wiedeking met Porsche's financial difficulties head on and made cost efficiency the mantra of the Boxster.  Engineering teams were brought together and worked on all aspects of the project.  They also worked on the development of both the Boxster and the new 911 simultaneously, saving time and payroll costs.  In addition, Porsche utilized preassembled modules and many of the same components for different parts of the car in an effort to cut down on tooling and production expenses.  This was a make or break car for the company and Wiedeking and his team made the most of the opportunity.  Shortly after the Porsche Boxster was introduced, Porsche's sales almost quadrupled.  The decisions that led to the development of the Boxster may have helped keep Porsche financially solvent and changed the way cars were produced, with a newfound emphasis on efficiency.
While the Boxster entered the market with a bang, it has now had twenty years of being a part of the Porsche lineup.  In that time there have been some significant changes and improvements.  The first Boxster series, the 986, featured a mid-engine design and low center of gravity.  It boasted a 2.5 litre engine that could hit 149 mph top speed and go from 0 – 60 in approximately 6.9 seconds.
The next iteration of the Boxster maintained the visual and exterior elements of the original but Porsche improved performance with a 2.7 litre engine that increased top speeds to 155 mph.  In 2000, Porsche debuted the Boxster S which featured an even higher performance vehicle.  This two seater with minimal trunk space is made for fun.  The Boxster S features a larger 3.2 litre engine and larger wheels and tires.  You'll also find an extra radiator and a convertible top headliner.
Fast forward to 2017 and the Boxster roots are the same but the packaging and design has yet again improved.  The 2017 version is available as the 718 Boxster or 718 Boxster S.  Both prototypes feature turbocharged 4 cylinder engines designed for maximum speed.  Porsche has continued to fine-tune and finesse the Boxster so that the 2017 models look sleek, luxurious and of course, fast.  The Boxster 718 S manual starts at $69,800.00 and hits 350hp at 6500 rpm.  It also goes from 0 to 60 in 4.4 seconds.  The Boxster offers a more affordable opportunity to enjoy the engineering and speed Porsche is capable of creating.
See Us Before Buying a Used Porsche Boxster
While new Porsche Boxsters are more affordable than other models, used Boxsters offer the opportunity to own a Porsche with even better savings.  When purchasing any type of used vehicle, it is important that you take it to a specialist to inspect.  When you decide to buy any Porsche, you are preparing to make a large financial investment.
Protect your investment by doing the research needed ahead of time.  TurboKraft has a team of Porsche experts that will examine every detail of a used vehicle and give you an honest assessment of its condition.  We can identify potential trouble, parts that may need to be replaced, or engine and wiring issues that may not be immediately obvious.  Let us examine the car and give you an estimate of immediate or soon to be needed repairs.  We can help you make sure that your purchase is a solid investment and ready for the challenge of living up to the Porsche name and reputation.