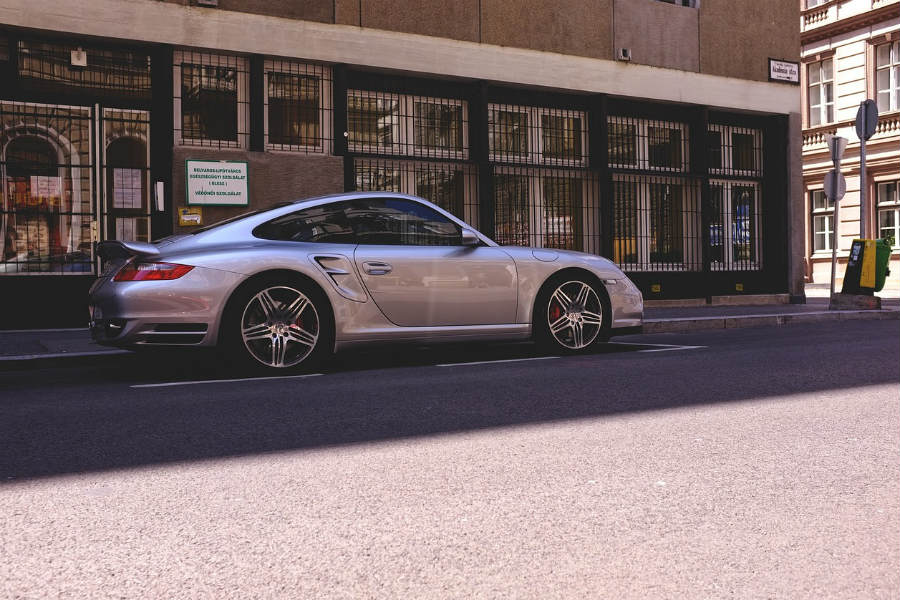 How many hours a day do you spend in the car?  Even in the best of circumstances, your drive to the office may be 10 or 15 minutes a day, each way for a total of about 30 minutes a day.  30 minutes a day, five days a week translates to 7,800 minutes a year.  Now, still assuming you work 5 days a week, if you commute an hour each way, you are looking at spending 520 hours or 31,200 minutes a year in the car on your way to or from work.  That's a ridiculous amount of time to spend as a captive audience on the road.  Some people decide to purchase two cars: one for fun on the weekends and one to use for the monotony of the commute.  Can a person have the best of both?  Make sure that you are making the most of your commute time by spending it in a vehicle you love.  Make sure you are commuting in a Porsche.
Porsche: Best Car for Commuting?
Commuter cars typically have certain qualities to make them effective.  They need to be durable and able to log a lot of miles with minimal maintenance.  Reliability is a must in any vehicle, but especially one that is going to get you to and from work every day.  Also, good gas efficiency is also a hallmark of a strong commuter car.  The good news is Porsche has several different models that meet these criteria with the all the perks of being a Porsche.
While the Porsche brand is synonymous with speed and high performance, it can also provide the best car for commuting.  The best Porsche for you will depend on a number of factors including the type of vehicle you prefer to drive, the length of your commute, the climate you live in and your budget.
The Porsche Cayman could be an easy choice for a commuter.  The new 718 Cayman and 718 Cayman S offer the expected Porsche features with the Cayman boasting 300 horsepower and hitting zero to sixty in 4.9 seconds and the Cayman S clocking in at 350 horsepower and zero to sixty in 4.4 seconds.  The new Cayman received some notable changes including upgraded interior design, updated brakes, and a turbo charged 2.0 or 2.5 engine respectively as opposed to the naturally aspirated flat six engines of models before.  You can use that turbocharged speed to avoid dangerous drivers and potential collisions on your way to work.  The revisions to the Cayman give it excellent maneuverability and handling.  The Cayman also gets 26 – 28 highway miles per gallon making your monthly gas expense manageable.  The base 718 Cayman retails at $67,700 but comes with plenty of upgrades and sport add on's available.  While the Cayman's retail and maintenance costs are higher than your typical commuter car, it's worth every penny.
The Porsche 911 series also offers standout commuter car options.  The 2017 Porsche 911 Turbo S tips the scale at the very high end of a budget at a base retail price of $188,100 and offers the best commuter car you could hope for.  It's scores high in every category: speed, maneuverability, handling and comfort.  The Turbo S's new sports 580 horsepower and the Dynamic Boost feature provides faster engine response.  The Turbo S is designed with a permanent all-wheel drive system that includes a liquid cooled front differential and an electronically controlled rear differential to make sure that the speed of the vehicle doesn't compromise the handling and drivability.  This car excels on the track and in stop and go traffic.  This particular Porsche will have you singing for joy every time you get into the car.
Find the Most Comfortable Car for Your Long Commute
While speed and handling are important that the actual mechanics of your commuter car; the comfort your car provides is important for your sanity.  If you are spending several hours a week in your vehicle, you should make sure you are comfortable.  Porsche excels in making luxurious sports cars in all the best ways possible.  The Cayman, and all newer Porsches come standard with PCM, or Porsche Communication Management.  The PCM is a centralized technology infotainment system that allows the driver to easily manage audio and phone connectivity with an easy to use touch screen display.  The Porsche interior is exactly what you would expect with easy to access gauges and ergonomic design, all contributing to the incredible comfort and luxury these vehicles have to offer.
Make Your Porsche Into the Best Commuting Car Ever
Porsche's are cars that love to be driven.  If you have to spend your workdays in the car, make it as enjoyable as possible.  If you are considering purchasing a used Porsche to serve as a commuter car, call TurboKraft and let our expert technician's check it out for you.  If you have purchased the Porsche of your dreams but want to customize it to make it perfect, we can customize, build and invent whatever you need.  Don't dread going to work.  With the right car, you can look forward to heading to the office every single time.