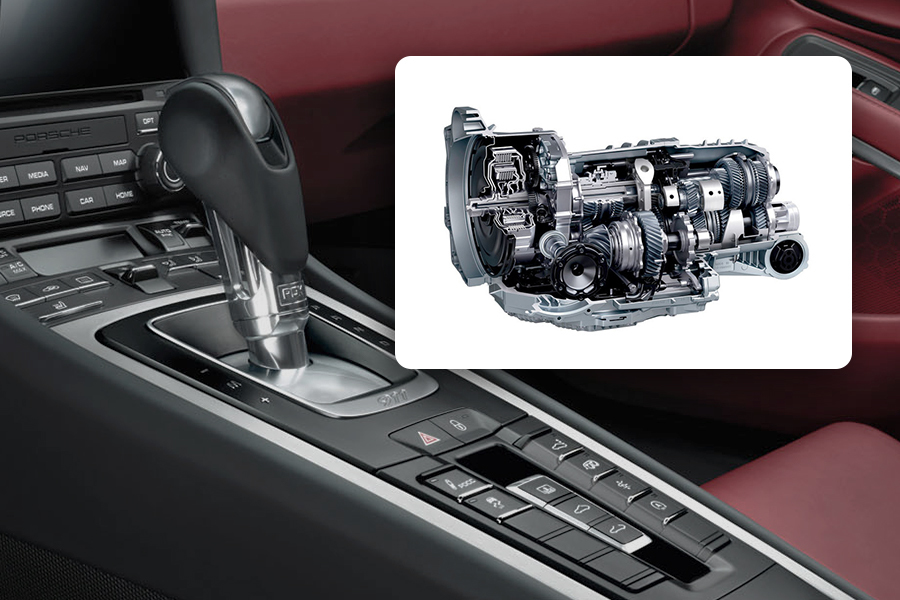 If you are a Porsche owner, chances are you know a thing or two about your car. If you are a Porsche enthusiast, chances are you know a hundred or thousand things about your car. As Porsche continues to grow, develop and engineer their vehicles more technology is pushing the boundaries of performance.  PDK transmission is a perfect example of this forward-thinking technology with the benefit of increased speed and performance.  If you have invested the money to purchase a Porsche, it is worth your while to continue to try PDK transmission
What Is a PDK Transmission?
PDK stands for Porsche-Doppelkupplungsgetriebe or, Porsche dual clutch transmission. It is a seven speed transmission available in both manual and automatic modes. The short explanation of PDK is that it is two gearboxes combined into one. The benefit to PDK transmission is quite simply speed.
The PDK basics
On its face, Porsche's PDK operates similarly to any other double clutch transmission. PDK's roots are in racing. The speed in shifting meant faster lap times and unintentionally better fuel efficiency. Each gearbox features a separate clutch where the components are continuously lubricated. Alternately connect the gearboxes to the engine through two separate drive shafts. PDK is operated by an electronic control unit that is responsible for matching engine revs and ensuring smooth transition from one gear to the next. The PDK transmission is able to shift from one gear to the next imperceptively without any loss in power. When one gear is engaged, the next gear up is already being preselected, prepping it for an imperceptible shift from one to the other.
Faster acceleration response
There are two separate gearboxes that function with the engine through two separate input shafts; one gearbox handles reverse, first, third, fifth and seventh gears and the other is responsible for second, fourth and sixth gears. Each gearbox is activated separately and independently of the other. An electronically controlled input shaft activates the correct gearbox when needed. PDK only engages one gearbox at a time. As one gear is closing the other is opening within milliseconds of one another making the shift from one gear to another seamless.
The clutches are designed in typical Porsche fashion with an emphasis on function and performance. They are oil soaked wet clutches built to withstand heat and pressure, making them well designed and high performing.   In modern versions of the PDK, the outer clutch pack which is attached to an input shaft actually runs within the hollow of the other, saving both space and weight.  PDK uses pressurized hydraulic fluid to engage the clutch and cool friction discs.   Magnetic sensors are used to determine the gear ratio.
PDK Beginnings
Porsche's first serious deployment of the PDK transmission was the 956/962 racing program in the 1980's. It was then that Porsche realized the full potential of a PDK transmission with the rewards of quicker shifting and ultimately more efficient fuel usage. Initial testing of PDK was not entirely successful. The transmission was bulky, adding weight to vehicles and unreliable due to challenges with electronics and hydraulic systems. Over time, the technology caught up to the design of the PDK transmission and it debuted production models in the 911 Boxster and Cayman models in 2009.
Porsche purists may miss the thrill of shifting manually and the thrill of hitting each gear for maximum efficiency. Having a vehicle that can do the heavy lifting all by itself may not be as thrilling or challenging for some while others will find the increase in speed well worth it. Different people with different driving philosophies will either love or hate this technology.
PDK Transmission Reliability
The PDK transmission reliability is similar to that of its predecessor's; incredibly dependent on regular maintenance and care. The gear oil and hydraulic fluid need to be changed regularly or the whole transmission and overall performance can suffer. The production models utilizing PDK are still relatively young so the overall reliability and longevity of the system are still yet to be determined. The best way to ensure the reliability of any part of the vehicle, especially the transmission is with proper and regular maintenance.
The Porsche PDK Transmission Experts
You can drive anything you want and you drive a Porsche. We get it. When it comes to service, it's not about fixing what's broken. It's about fine-tuning a machine for optimal performance. It's knowing what your car can do and enjoying every second.
Porsche simply can't settle and PDK is yet another example of Porsche taking something like a transmission and putting their own spin on it. If your Porsche needs maintenance or care, call our TurboKraft experts. We can help you get the most out of your car and enjoy your Porsche the way it was intended, with the best performance and standards around. Take your PDK transmission to the next level with regular maintenance and any customization you can dream of.